Bekijk op onze website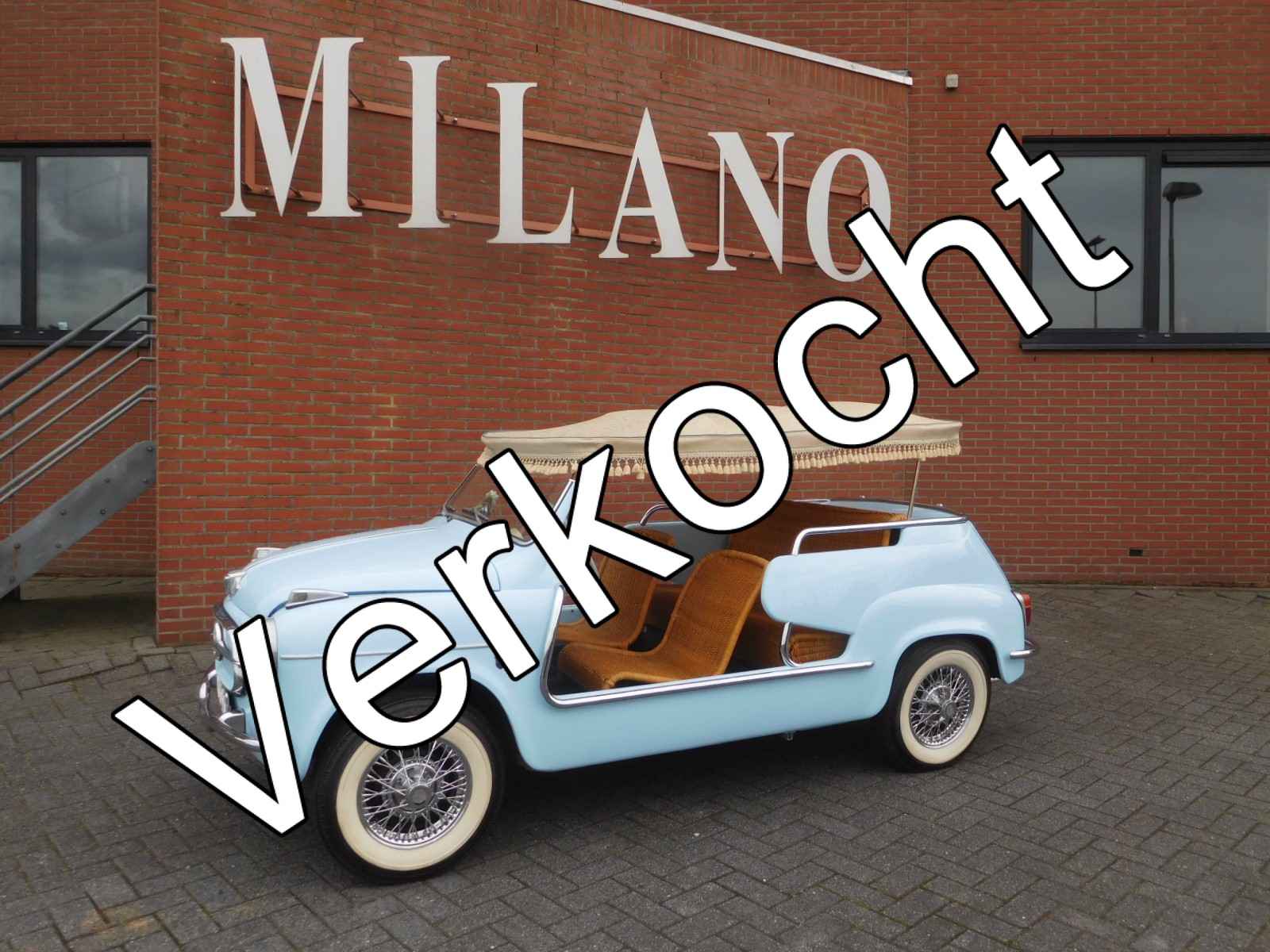 Opties
Overige:
Bekleding stof
Handgeschakeld
Eerste eigenaar
Onderhoudsboekjes aanwezig
Opmerkingen
This is a beautiful early example off a original Fiat Jolly 600

It has the unique Art Deco flashing lights and the special Fiat logo bonnet closure, which is very exceptional.
EX FORMER PROPERTY OF SIR ANTHONY BAMFORD.
Owner of JCB one off the richest entrepreneurs off Great Britain and the only Ferrari collector with two 250 GTO's in his collection.
Imported from the USA in to the UK around 2001
Restored by the Middle Barton garage in Somerton England. www.middlebartongarage.com
This Fiat 600 jolly coming together with a restoration file and bills.
Also a copy of the document with the name Sir Antony Bamford.
Only about round 200 built.
It has the desired Borani wire weels.
Made for the Rich and Famous
Grace Kelly, Rainer van Monaco, Aristotle Onassis, Yul Brynner, Mary Pickford, Mae West, Gianni Agnelli, Josip Broz Tito en James Inglis and the Kennedy 's once had a Fiat 600 Jolly.
A unique opportunity to buy an early Fiat 600 jolly with great history.
This Fiat jolly can be only visited on appointment.
www.milano.nl
In (2019) a Fiat Jolly 600 was sold by auction house www.goodingco.com for 156.000 Dollar
In (2020) a Fiat Jolly 600 was sold by Auction house www.rmsotheby.com for 151.500 Dollar
Prijs op aanvraag 0653508508 of 0786515200

It's a blue-chip investment in pleasure and value


Alle moeite is genomen om de informatie op deze internetsite zo accuraat en actueel mogelijk weer te geven. Fouten zijn echter nooit uit te sluiten. Vertrouw daarom niet alleen op deze informatie, maar controleer bij aankoop de zaken die uw beslissing zouden kunnen beïnvloeden.